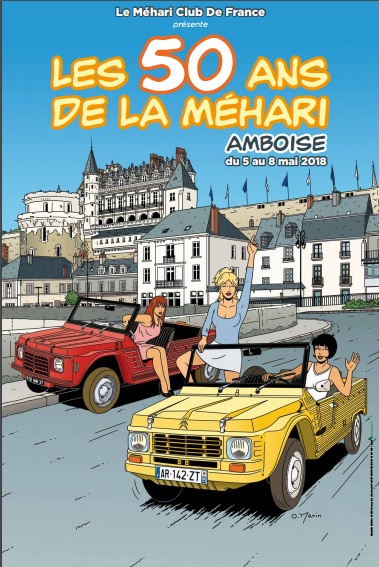 In May 2018, the Méhari will celebrate its 50th anniversary. La Méhari began its career on May 16, 1968, day before historical events, at the Golf de Deauville where it has been introduced. The journalists could not imagine that day, that this small plastic car based on the Citroën 2CV would become a cult object. For the French, it is now part of the industrial and automobile heritage. This is also the case in all the countries where it was built or sold.
In 1998, Méhari Club De France celebrated its 30th anniversary in Deauville, where it had been presented to the media. In 2008, we celebrated its 40th anniversary in Amboise (Indre et Loire).
In 2018, we will return to Amboise to celebrate and blow the 50 candles of our favorite car. This gathering will take place on the Ile d'Or, on the Loire in the center of the city, from 5 to 8 May 2018. This event we organise is only dedicated to the Mehari.
Of course, the program is still in progressAll information throughout the organization.
Please note that accommodation is not supported by the organization. However, the tourist office of Amboise and the campsite situated next to our site on the Ile d'Or can offer you accomodartion possibilities. These are numerous in a region as touristic. Show offers
Another important thing : registration for the event will only be made by pre-registration on forms that will be available at the end of 2017 on our website mehariclubdefrance.com. Pre-registration form
We are waiting for you in Amboise from 5 to 8 May 2018, to celebrate the ½ century of the Mehari ! Location